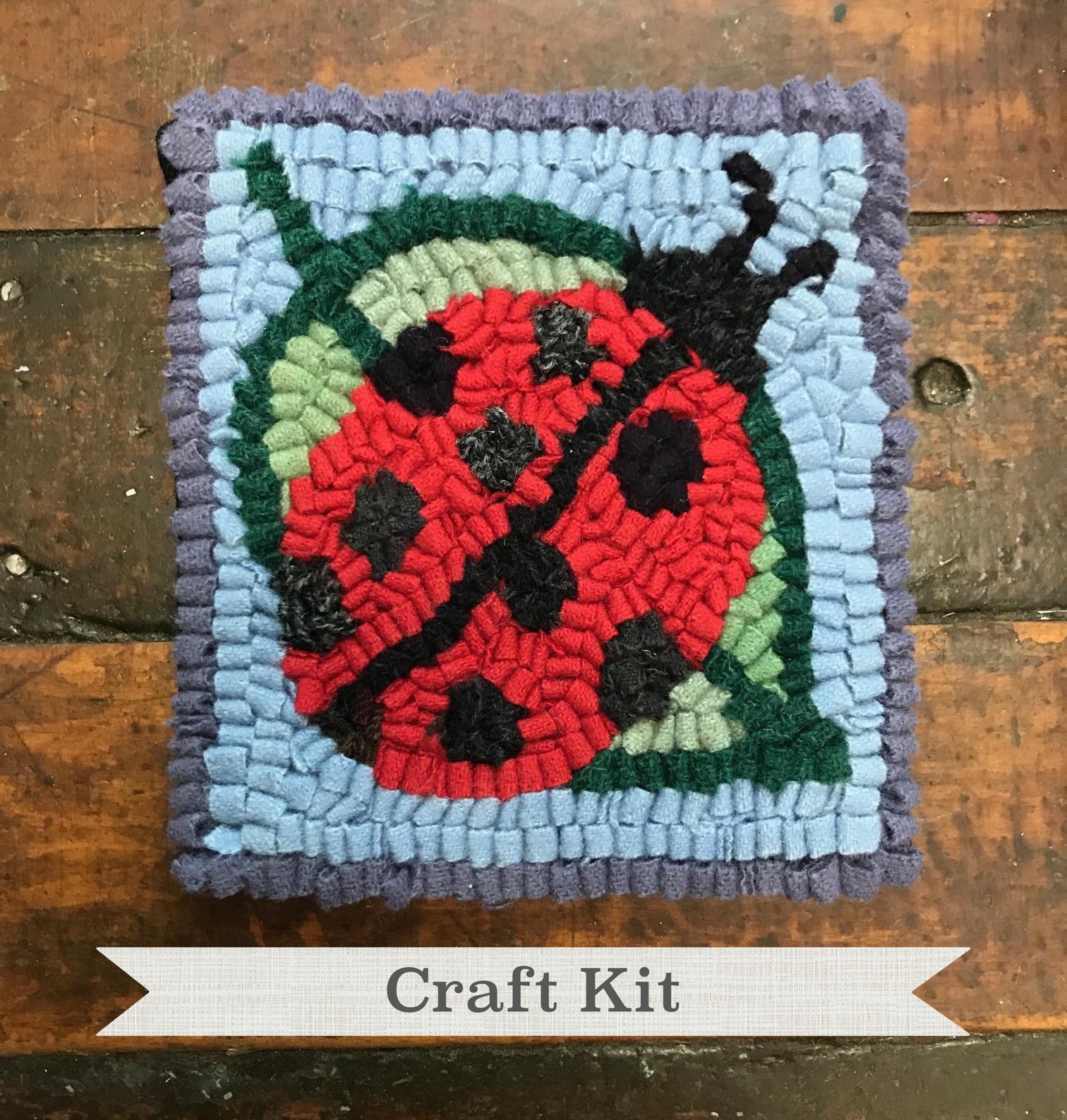 Shop for Kits
sale
DIY CRAFT KIT - Kid Friendly LADYBUG - Complete 6 by 6.5 inch Primitive Beginner Rug Hooking Kit
This listing is for one complete KID FRIENDLY teach yourself rug hooking kit for our original design, LADYBUG. This kit was specific designed with kids in mind! It is small in size, measuring 6 x 6.5 inches, and feature simplified drawings that are great for beginners. Try out this relaxing, easy craft - great for kids aged 7 and up!
Each kit comes with:
- one hand drawn pattern on Monks Cloth (with, at least, a 4 inch border)
- one wooden rug hook (optional)
- rug binding
- enough hand dyed wool strips to finish the project. Colors include: reds, greens, blues, and blacks!
- one color photo, color key, and instructions on how to complete the rug
A rug of this size can be completed using an embroidery or quilting hoop (6 to 10 inches), easily found in any local craft store.
About our Foundation Material: Monks Cloth is a cotton based foundation and great for beginners because of it's durability, low cost, and flexibility.
Wool: Please note that many woolen strips are hand dyed and all are hand cut which may cause very slight variations in their shade and thickness. All wools are number 8 size strip unless otherwise noted. All strips are cut but may need to be torn apart to use (Just tear the scored lines quickly to pull apart).
I use a variety of solid and textured wools in my kits and wool mixes. Some shredding of textured wools (ombres, herringbones, plaids) is completely normal, expected, and add visual richness to your rug.
Wool Quantity: I always provide enough wool strips to complete every rug, but everyone hooks a little differently. If you find that you have run out of wool strips, I'll be happy to send them to you free of charge. Please note, that I may not be able to color match the colors in your kits, but I will try my hardest to get you the closest match possible. I will send out one package of wool free of charge - after that I ask that you pay for additional strips and shipping costs. I recommend that you complete all areas of the rug to the best of your ability before requesting colors so multiple packages do not need to be sent out.
About our Hooks: You have the option to include a wooden medium sized hook with your kit. Hooks in kits are only an additional $6 - a great value!
Kits come packaged in a study plastic bag with colorful front page label that includes a large color photo of your kit. Kits will be mailed in a poly mailing bag. Please see my listing for "Gift Box and Upgraded Priority Mail Shipping" listing if you'd like to upgrade to a beautiful gift box with cute label and bow (and upgraded shipping).